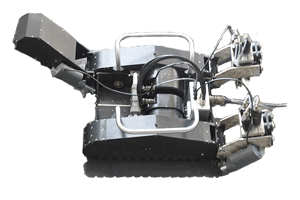 RTT's Mobile Inspection Platform (MIP) was tested and validated at Tennessee Valley Authority (TVA) sites.  Today, the system is commercially available and used to test furnaces, tanks, penstocks and pipes throughout the United States.
RTT's MIPs combine a mobile climbing platform with an ultrasonic wheel transducer inspection device and pneumatic needle scalers for surface preparation.  The system breaks down into four primary components: tractor platform, transducer unit, scaler unit and interface/controller.
The powerful permanent magnet pads in the crawler platform enable the unit to work in wide variety of positions, including horizontal and vertical inspection scans.
During operation, the user has real-time control of the travel speed and direction via an intuitive twin joystick control pendant.  In addition, positioning of the remote attachments (transducer and scalers) can be remotely adjusted via the control pendant.  Data is automatically collected by a simple Windows based program running on a laptop.  The software logs the real-time vertical position of the transducer and the thickness readings retrieved automatically from the flaw detector.
System Specifications
Parameter
Specification
Power Requirements
120 VAC/50-60/1
Air Requirements (for scalers)
90 psi, standard line air pressure supporting 6+ CFM flowrate
Crawler Travel Speed
0.5 – 300 ipm
Steering (Crawler):
infinitely adjustable, via twin joystick drive controller
Load Capacity:
100 lbs.
Weights:
Crawler
Transducer
Scaler

65 lbs.
10 lbs.
25 lbs.
Standard Tether
100 ft
Standard UT Gage:
Panametrics Epoch4+ or Epoch4XT
Standard UT Probe:
Sonatest 5 MHz single element transducer wheel probe
Software:
Data Collection Pro (Windows based data logger)
Data Format:
Text file generated automatically for import into spreadsheet program
Couplant System
Water container and pump system for wetting wheel probe